Consider Pebble Creek Ski Area for your summer wedding or gathering. Located just south of Pocatello, Pebble Creek boasts breathtaking vistas, wildflowers, spectacular alpenglow sunsets and an atmosphere that is calm and serene at an elevation of 6500′ in the base area. Imagine as your loved ones and friends gather for your special occasion in an environment that is warm and glowing with nature and life in a location that many consider to be their home away from home. We look forward in helping you make the most of your special day with memories that will last a lifetime.
Pebble Creek is also the perfect place to have your next staff meeting or conference. Our lodge has most the amenities you would need to have a productive and inspiring corporate event with a view that is unrivaled in the Portneuf valley.
RESERVATIONS AND FEES
Flat Fee for 1 day use: $1,500.00

$250.00 Non Refundable deposit locks in your date.

A contract with release of Liability is to be signed with deposit payment.

The deposit is applied to your fee.

Final payment must be paid at least 4 weeks prior to your event.

A refundable $500 key/cleaning deposit (to be paid by separate check or money order) is required.

The guest is responsible for any damages to the Lodge, its contents and surrounding area.

Event Insurance is required, to be paid by the client, providing a minimum of $1,000,000 liability coverage for guests against injuries or property damage and listing Pebble Creek Ski Area, LLC as Additional Insured. A copy of Event Insurance policy must be provided to Pebble Creek at least 2 weeks in advance.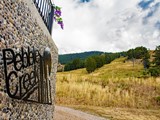 SET UP/DECORATING
Providing there are no events immediately prior, you may set up in the lodge Wed-Thurs at no extra cost. Upon signed contract agreement and deposit, guests may be provided with a key for use of lodge during set-up, event, and clean up, allowing for guests to come and go as needed.
Lodge and base area may be decorated by guest to show your individual flair.
Tables, chairs and picnic tables are available for use at the event. Seating for approx. 200.
Extra chairs and benches are located downstairs and can be moved to the deck on the day of the event. All items moved must be moved back to within a reasonable distance from where they were originally located.
Any additional tables, chairs, food prep items, dishes, flatware, linen and décor are provided by the guest or their caterer.
Wi-Fi and large monitors (HDMI compatible) are available for use.
Clean up is the responsibility of the guest. Final cleanup is required and must be done on the day following the event. Any clean up remaining undone is subject to fee. Pebble Creek is not responsible for items left on site unattended.
No fires, fireworks, glitter, confetti or artificial flower petals are allowed.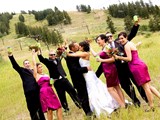 CATERING DETAILS
CATERING
Pebble Creek does not offer catering services.
Choose the Caterer of your choice or cater the event yourself.
Alcohol can be served provided there is no charge to your guests.
Refrigerator and freezer space is available, for small & large items
SPECS
Tables 3×3- 33 upstairs
Tables 3×6- 2 upstairs
Tables 2×2- 18 downstairs
Outdoor Picnic table dimensions 114″x 28 1/4″- 14 (attached benches)
Deck is approx. 96' x 31'
LIFT USE
For an additional fee of $500, the Skyline lift can be used for your event.
This includes the proper staffing needed to run the lift, chair rides for up to 15 people, and 2 hours for ceremonies, pictures, etc.
Must be scheduled at least 6 weeks in advance.
Contact [email protected] for more details or reservations.